| | | |
| --- | --- | --- |
| | P. Glenn Moyer's Page | |
---
Your Webmaster received the following note from P. Glenn Moyer of Souderton, PA on February 4th, 2000. He describes life growing up in the Hunsberger heartland in Pennsylvania, as well as a trip to Switzerland in 1977, tracing the family roots. He mailed some wonderful color photos of his trip to Switzerland. These have been scanned and are included below. The images each take several seconds to download, but the wait is worth it!

- x - x - x - x -
My mother's maiden name was Hunsberger. Grandfather Hunsberger always wrote his name with a "p" instead of a "b" and said that was the correct spelling of the name. Until my generation (b. 1935) one always took as a middle name the maiden name of one's mother, but that stopped when the PA Dutch went English. Grandfather Hunsperger refused to accept this and whenever he wrote me he always inserted an "H" as part of my name.
I grew-up in Souderton on part of the old Hunsperger farm and still live there. I pass it by often. As a boy, old Chris Hunsberger lived down the street and still owned most of the fields south of West Broad Street which were once part of the old farm. He could not or would not speak English - always "Dutch". That was all right with me. I still speak it, but it's dying out fast.
Donald Hunsberger, his brother John and sister Jean Ann, who was in my high school class, grew-up a block away on Adams Avenue. We could hear him practicing his trombone on hot summer days and he directed the band before assembly at Souderton High and were those guys good. I'm not surprised at his success.
After graduating from Gettysburg College in 1957, I went into the Army and after the Army Intelligence Center and Army Language School, I became a CIC agent in Hamburg, Germany. I lived alone there for two years, did background investigations of German nationals and served as liaison with German governmental officials and American Consular officials. As a result I became proficient in reading, writing and speaking German.
I mention this because I traveled over to Switzerland in the 1970's and visited the Hunsberg while there. I have pictures of Krauchtal, the road leading up to the farm on top of the Hunsberg and the farm itself. [Editor's note: some of these pictures are shown below.] It is a most beautiful place. (You can purchase a detailed map of the area in any cartographer's shop. I call them "Zoom maps" because you choose the area you want and zoom in on it. The one I had even showed the Wanderwegs and signs for walking around the area.)
As I neared the farmstead, an older woman was in her flower garden in front of a more modern house. Her name was Frau Walther. I greeted her with the traditional Swiss German "Gruess Gott" greeting. "Gruesli" she replied and then we chatted for awhile and because I was speaking High German and she Swiss German, she asked what part of Germany I was from. Swiss German is much nearer to Pennsylvania Dutch than High German. I told her I was not German, but an American. She then said, "I know why you're here," and invited me in for tea. She told me that over the years there have been quite a few Americans who pass by, but few who speak German. Afterwards she gave me free reign of the farm and insisted I visit her two brothers who were hand sowing grain in the fields. I did so. There was an old tractor parked in the field and a horse hitched to a wagon, sort of like they didn't know whether to modernize or not or they were just plain thrifty. They told me I must go to an overlook where there was a gazabo overlooking the village of Krauchthal. I went off into a thick woods in the direction they pointed and by dumb luck found it. A great sight awaited me. I backtracked later on, but they were gone from the fields, so I returned down to the village.
I went into the Tavern and had lunch there. Der Wirt (the tavern owner) overheard me order lunch and came over to talk. He asked and I told him what I was doing there. He said there was a Hunsberger who played on the Swiss National Soccer team and he was very famous throughout Switzerland. After lunch the bus came and I took it back to Berne. (Incidentally, Krauchthal was the end of that bus line to and from Berne.)
I still live in Souderton and practice law there.
- x - x - x - x -

Trip to Switzerland, 1977 -- Tracing Family Roots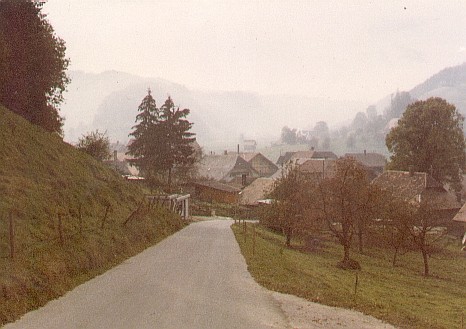 Leaving the village of Krauchtal on the road up the mountain to the Hunsperg.

A farm farther up the mountain.

Still another farm way up on the mountain.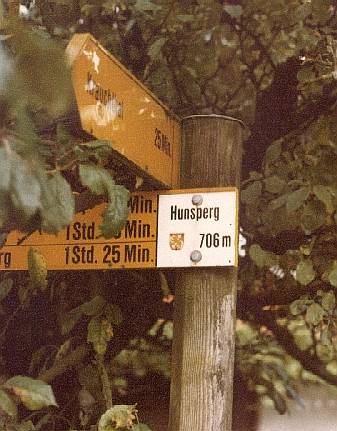 The signpost at the summit.
[Editor's note: Distances appear to be measured in walking times.
"Std." stands for "Stunden", or "hours".]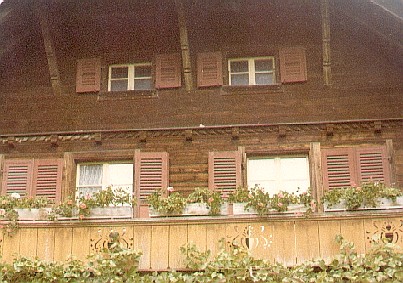 The original Hunsperger farmstead -- front of newer house.

Frau Walther in her garden.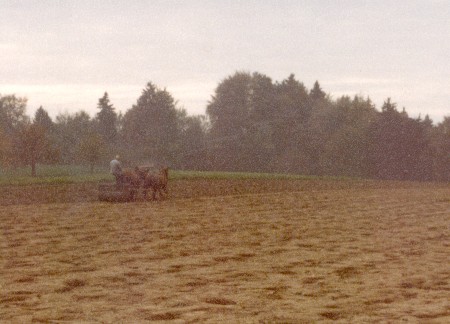 One of the Walther brothers preparing a field for winter wheat.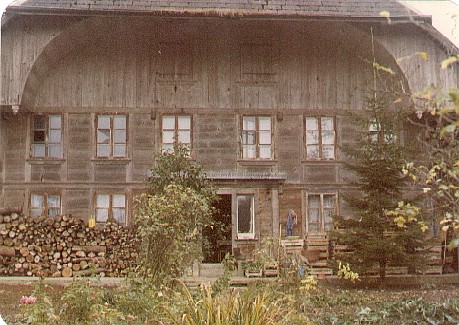 The centuries-old house from the vegetable garden.

Side of the old barn.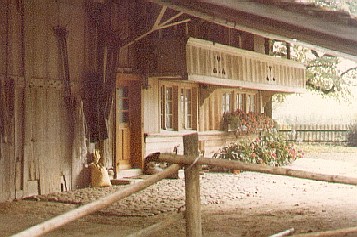 Other side of the old barn, showing apartment in rear.
---

Link to the Hunsberger Family Web Site Home Page